A unique feature of the CMS by i3 is the ability to integrate POS data with the surveillance system. This feature provides users with many vital indicators for their business. A refund recorded by POS data that does not match with a customer at the returns desk would indicate potential fraud. Smart-ER can identify Returns, Voids, Cancelations, No Sales, Discounts, and, Refund transactions. It can display the risk factors that are associated with each store and narrow it down to an individual employee. At a click, the user can see the actual receipt along with the corresponding video. It is a useful tool for loss prevention officers to detect fraudulent activities.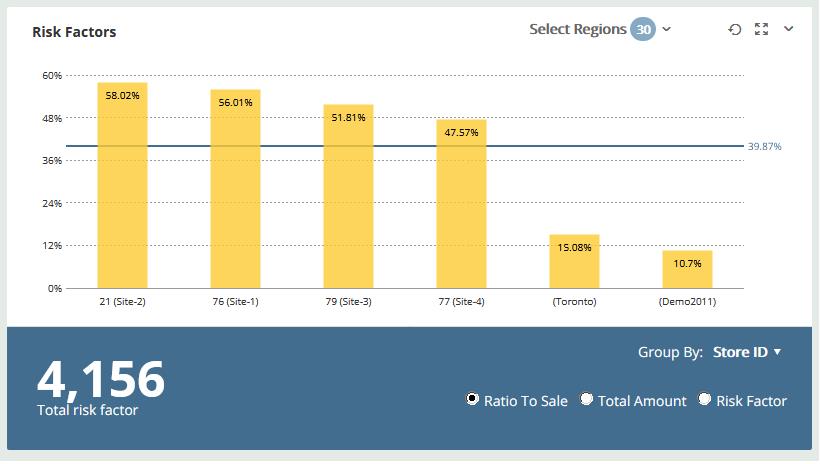 Risk Factor is derived by identifying risky transactions. Each of these risky transactions is awarded a value which is reflected in the final risk factor number to identify suspicious events and people of interest. Smart-ER in practice provides data for in-store exceptions such as Customers without a Transaction or Exception (transaction) without a customer or drive-through expectations such as Car without a Transaction or Exception (transaction) without a car.
Customers Without Transaction/Cars Without Transaction
This number represents the number of times video footage identifies a customer standing at a check out with no corresponding transaction data. This could indicate fraud by employees.
Exception without Customer/Exception Without Car
This number represents every time an exception such as void or refund etc. is recorded in the POS data that the video footage records no customer at the counter or no car at the drive-through window. This could indicate fraud by employees.
Click on either of these graph bars or on the table representation of the data at the bottom of the graph to drill down to see the actual transaction with the matching video. Note that in the case of customers without transaction there will not be a transaction to review (as there was no transaction created) but the video of the customer at the checkout will be provided.