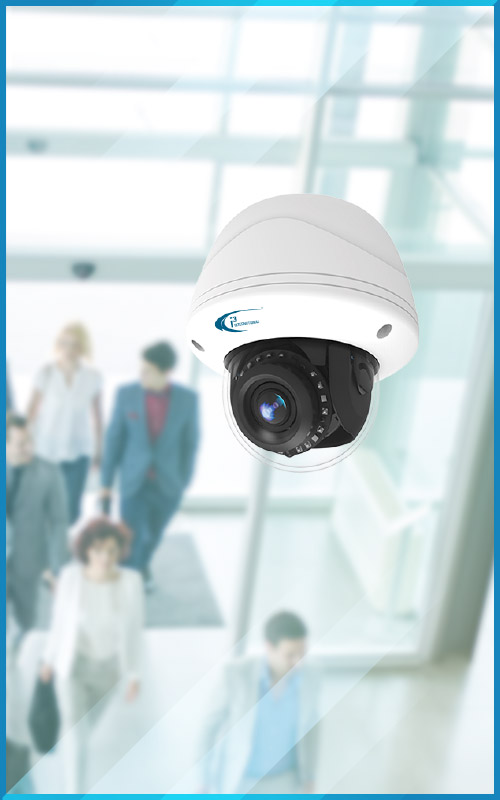 Video surveillance can significantly benefit factories and warehouses as they attempt to maximize effectiveness and protect assets. Theft of raw materials or finished goods, sabotage, accidents or even terrorist threats has made the manufacturing, storing and shipping of products riskier and more expensive. An i3 surveillance system offers ways to deter theft protect employees and provide building security.
Network cameras are a valuable tool for increasing production output and efficiency. They allow any authorized person remote access to live images over the network, making it possible to:
Remotely monitor manufacturing lines or other processes for safety and effectiveness.
Detect potentially threatening situations.
Evaluate incidents via video reducing the possibility of after-incident contamination.
HAVING THE RIGHT SECURITY SYSTEM
The SRX Pro video management software is an advanced security solution, providing the recording of the latest, state-of-the-art IP video surveillance cameras. The powerful, yet easy-to-operate client user interface installs on any standard computer running Windows and easily connects to multiple SRX Pro servers including hybrid servers and IP camera servers. Video from all i3 systems can be accessed using web browsers or client software with access to the internet.
VIDEO ANALYTICS
i3's VideoLogix software is a biometric security solution highly applicable to the commercial market. VideoLogix utilizes technology that allows the computer to closely mimic the recognition and tracking system works in real time giving management personnel a window on the health and efficiency of staff and processes.
MULTI-DIMENSIONAL TOOL
To the business wanting to leverage data-driven strategies to innovate, compete, and capture value, i3 International's robust CMS solution is superior to other business intelligence tools. It utilizes video as another data point to research operational programs helping improve business efficiencies, employee behavior patterns, and mitigating risks. All this designed by the largest in-house team of analytics algorithm computer programmers in the industry.
Do more than video surveillance with a flexible and cost-effective system from i3!